Luke OKAY impressed Wilson's team with his cartoon depiction of a skeleton beach party. 
Crowned with the winning design of Julian Wilson's Signature Master Tracks,Surfer, skater and talented artist from Australia - we picked his brain on what inspires him, his process and more. Read on: 
What environment do you work best in? 
My home studio is my favorite work environment. There's no one around which sets a better mood for getting creative. I have a big wooden desk I built myself from recycled timber and on the desk sits a row of inspirational books, magazines and an encyclopedia on birds. A few skulls, Spongebob Squarepants and designer toys live on the desk with boxes and jars housing pens, paints, brushes, pencils and other tools.
What inspires you to create art the way you do?
My friends in the art game inspire me on a daily basis and are constantly pushing me to be better. I'd say the punk music I've grown up listening to has helped shaped a certain part of my style and helps me express certain messages through my art.
Every artist has his or her own creative process - what's unique about yours?
I wouldn't say there's anything too unique about my creative process, when I want to get creative I like having isolation so I'm not distracted or feeling any kind of pressure.
I like comfort so I can explore my soul and put pen to paper or brush to canvas, and let it all out. Music is always on, it always helps me get in the right frame of mind, which usually takes a lot of coffee and procrastinating or "getting inspired" before I get rolling.
Who are some artists that have inspired you and have influenced your style?
In primary school it was Van Gough and Picasso, then guys like Ozzie Wright came out with punky surf art which kinda took my art style away from those older classical roots. Now it's the revolution of street art that is taking over the world. It's hard to not be influenced by the here and now and what's blowing up around you.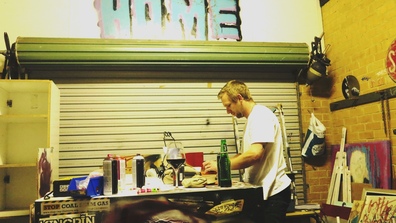 My best friend Trait is probably my biggest motivator and influencer, it's always awesome when someone you look up to is also a mentor and a soundboard for progression.
What led you to become an artist?
I really don't know, I've always painted and drawn since I was really young. No one in my family did art but I guess I just had something inside me that needed to get out. The progression of being an artist and making it my profession is something that just happened.
Your art is colorful and has a lot of personality. If your art could speak, what would it say?
I feel my ART does speak. There are messages in most of the things I create, it's not even that subtle, in fact I like having it more in your face. If I can make the audience think and question topics then I'm happy. I don't really care if they buy the piece or not.
DESIGN on the other hand is different, design is about making people happy, the trick is to sneak messages into designs so you can subliminally influence people haha.


If your life were a music video, what songs would you play throughout the day?
If my life were some sort of music video I'd be like a male Mary Poppins and fly in on an umbrella, no screw the umbrella... on the back of a flying tiger in a haze of punk and hardcore. The video would mellow out with electro, and build back up with hip hop. I'm out again on that flying tiger of punk and hardcore.
It'd be hard to single out individual songs but it'd be a blur of Rise Against, Gaslight Anthem, Architects, Brand New, Refused, M83, Naked and Famous, Flume, Run the Jewels, Mos Def, Shabazz Palaces, Radiohead, and Alexisonfire. Something along those blurry blurry lines.
You also tend to create really captivating monochrome pieces, how do you decide whether or not to work in black and white or in color?
I don't really have to decide... (I don't think). Some idea's will just suit one style or the other and it naturally progresses as an image in my head and I'll know straight up how to execute what I'm thinking.
What do you do when you're not creating art?
Most of the time it's just the usual day to day stuff. Try and have fun, share some laughs with my lovely girlfriend, go surfing, hang with friends, grocery shopping, cook dinner or be immature in interviews.
What's your Soundtrack of Life?
The album 'The Devil And God Are Raging Inside Me' by Brand New would be the soundtrack of my life. I don't know why but I just seem to have an affinity with this band. Their music and their lyrics are just so damn genius it is something I constantly connect with. Even though it's a pretty melancholic album it's something that totally makes me happy and I have a lot of awesome memories that have happened with this album as the soundtrack already. So it makes sense to me.
What's one thing you want people to know about you?
I like ice cream?
Check out Luke OKAY's design on the Julian Wilson Master Tracks.
You can see more of the artist's designs on his Tumblr page: http://luke-okay.tumblr.com/